Description
NO MORE SLOUCHING WITH THIS POSTURE CORRECTOR
Supporting all the right areas to align your neck and spine, it helps train your posture to maintain its upright position.
For anyone who suffers with bad posture or is known for slouching. With the posture corrector brace back pain and bad posture could be a thing of the past. The support is designed to move your upper back into it's correct position, working to improve your posture over time. Should initially be worn for 10 – 20 minutes for the first couple of days, increasing by 10 minutes until your muscles adjust and build a muscle memory. It can be worn at work, while watching TV of an evening or while out and about. Comfortably worn both on top and under clothes due to it's lightweight nature.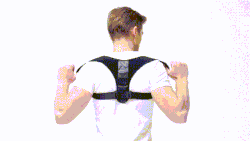 IMPROVE POSTURE
Our posture corrector works by training your muscles and spine to return their natural alignment, allowing you to stand head to toe the way nature intended.
✅Relieves physical (back) pain.
✅Good Posture can increase: ✔Attraction ✔Status ✔Confidence
🔥REDUCE BACK PAIN
Bad posture left unchecked can cause pain and lead to nerve damage. Our posture corrector, coupled with physical therapy, aids in the treatment of back pain.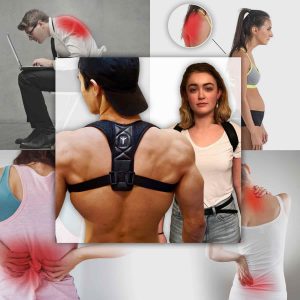 MAXIMUM COMFORT
Our durable and comfortable design allows effective assistance while being comfortable to wear. The cushioned straps pull your shoulders back while the waistband supports the middle and lower back.
INVISIBLE ADJUSTMENT WITH VISIBLE RESULTS
Our posture corrector fits seamlessly under your clothes for discreet daily adjustment that can yield noticeable results.
WHY DO I NEED THIS?
Poor posture can be detrimental to one's health! If you are in front of a screen gaming or working nonstop, chances are you are suffering from some degree of slouching or poor posture. Even athletes can suffer from back and posture issues due to muscle imbalances. The Posture Corrector is a patented solution that works for males, females, athletes, or ordinary people alike.
Posture Corrector is not about a temporary fix. It's about gradual adjustments over time for permanent correction of bad posture. Your muscle memory will begin to relearn correct alignment and stance for your body as you wear the Posture Corrector – so even when you take it off, you will be standing and walking naturally in a healthier, more correct manner.
SIZING INSTRUCTIONS
Small (S): For kids or small adults 90 lbs – 140 lbs (40 kg – 64 kg)
Medium (M): For adults up to 150 lbs – 180 lbs (68 – 82 kg)
Large (L): For adults between to 181 – 365 lbs (83 kg – 120 kg)
Extra large (XL): For adults over 365 lbs (120 kg)
✅LOOK CONFIDENT, FEEL REFRESHED, AND LIVE HEALTHIER!
🚀We ship with a USPS tracking number. Shipping takes between 4 and 7 days.
🛒Click the green"Add To Cart" button now! Limited Quantity - Will sell out fast!
ORDER NOW AND RECEIVE 4-7 DAYS EXPEDITED SHIPPING TO USA!
🔒30-Days Buyer Protection! Money Back Guarantee: If the item received is not as described or is damaged, you have 30 days after you have received the item to ask for a replacement  or refund. Contact support@buyitlucy.com for next steps.
📧We have 24/7/365 Email Support. Don't hesitate to contact us if you need any assistance!
**Limited Quantities Left**
GET YOURS BY CLICKING THE ADD TO CART BUTTON
📦Shipping & delivery!
🌍We ship worldwide!✈
✔ Orders take 3-5 days to leave our warehouse.
✔ Please allow 4-7 days for USA Delivery.
✔ Please allow 2-3 Weeks for International Delivery.
Payment & Security
Your payment information is processed securely. We do not store credit card details nor have access to your credit card information.